UNDER CONSTRUCTION
This page is in the process of being completed and is not ready for your enjoyment.
Top Model 3
ORG Staffing
Cohosts:
Bo as Tyra Banks
Ed as Paulina Porizkova
Jessica as Nigel Barker
Additional Staff:
Erik as Angelina Jolie
Game Statistics
Board Access:
Closed
Date Began:
January 11, 2013
Date Finished:
February 25, 2013
# of Contestants:
14 Players
Winner(s):
Miranda
Various Tribes
Returning Seasons
tmodel3.proboards.com
NP Awards

The game began by having an unlimited number of people sign up as their favorite model or celebrity of all time. No model or celebrity that had already been played in a previous season of this series could be chosen again. There were no other real limitations on who they could pick to play as. All who signed up were then put through a photo shoot where the judges determined which 14 would become the cast.
Each round the models would compete in a Frame Challenge. The winner of each challenge would receive an extra frame in the upcoming photo shoot. The models were then given a photo shoot in which they had to find a photo of themselves that would match the theme. The judges would then look over the photos and deliberate on who would stay and who would be eliminated from the game.
Each model would be given a score of 0-3 for each of their final submissions. They would earn 3 for being the first call out, 2 for being somewhere in the middle, 1 for being in the bottom and surviving and 0 for being eliminated. At the Final 3, the models were given the chance to look back on their shots and redo up to 5 for a chance to earn an extra point for that photo. The model with the lowest total score at the end of their redos would be eliminated.
At the F2, the 3 executive judges were then brought together to discuss and eventually vote for who they'd wish to win this game. They could only vote for 1 of the 2 players who made it to the end of the game.
Avatars
Player Information
Game Charts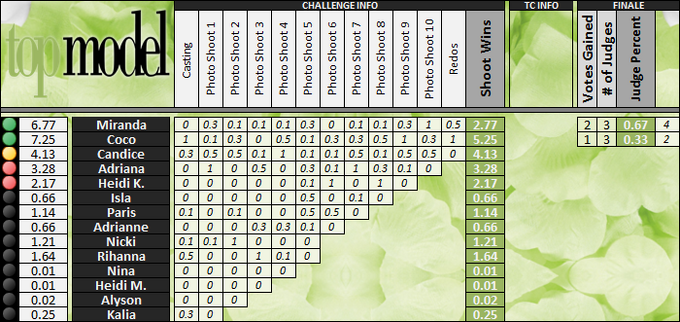 Based on the Survival Average used at True Dork Times.
Trivia
This ORG introduced 2 new Alumni: Deronowens & Ms.witters.
A total of 21 people signed up, but 9 were cut in the sign ups process.
Foot Notes