Israel II Survivor
ORG Staffing
Cohosts:
Jill as Jeff Probst
Bo as Guy Zo-Aretz
Game Statistics
Board Access:
Closed
Date Began:
August 22, 2009
Date Finished:
October 12, 2009
# of Contestants:
20 Players
Winner(s):
Igor (5-3)
Various Tribes
PreMerge Tribes:
Baru
Caniba
Merge Tribe:
Casaya
Returning Seasons
survisrael.proboards.com
NP Awards
Production Information
Edit
Sign Ups for 20 players began August 19, 2009. Reservations were not allowed. People were allowed to sign up as someone from Israel's Season 2 of Survivor. There were no other limitations on who they could pick to play as.
Check Ins for the players began on August 20, 2009. There were no replacements. The game then began on August 22, 2009.
Game Summary
Edit
Season Twist: Immunity Challenge winners during the merge were required to void a player of their choosing's vote in that round's Tribal Council. If they failed to choose someone, their own vote would be voided.
Challenge Twist: Gal & Guy earned a Hidden Immunity Idol during Immunity Challenge #7.
Challenge Twist: Players earned various prizes via lottery during Immunity Challenge #11.
---
@Final 20 players were placed into 2 tribes of 10.
@Final 17 tribes were shuffled; numbers remained as is.
@Final 17 both tribes were sent to a Double Tribal Council.
@Final 14 losing tribe was sent to a Second Tribal Council.
@Final 10 players merged into a single tribe.
@Final 8 players faced off in an Elimination Challenge.
@Final 3 players faced off in an Elimination Challenge.
@Final 2 players reached Finale, facing 8 Jurors.
Avatars
Player Information
Game Charts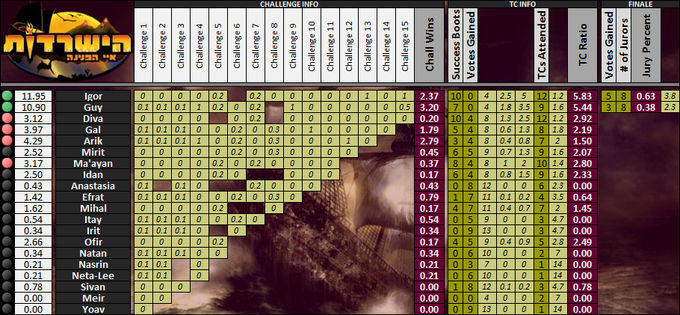 Based on the Survival Average used at True Dork Times.
Trivia
This ORG introduced 11 new Alumni: Bobpwnsyou, Breathexonxme, DrummelSmithJessica, Fanreality, Flamemeke, Garrettsmyth, Gotbananas18, JEJohnson81, Rbrichboyy, Sparkyoscar731 & Survivor_freak2.
The Baru, Caniba & Casaya tribes were named after the real show's tribes.
The original name of this ORG was "World of Survivor", but when the series was cancelled it was changed.
Foot Notes