AniMunny Survivor 28: Qwghlm
ORG Staffing
Host:
Bo as Chris McLean
Game Statistics
Board Access:
Deleted
Date Began:
June 18, 2017
Date Finished:
August 2, 2017
# of Contestants:
18 Players
Winner(s):
Lust (6-1)
Various Tribes
PreMerge Tribes:
Junyaota
Kannushi
Shanghai
Merge Tribe:
Fallopian
Returning Seasons
AniMunny All-Stars 6:
Beryl, Kwame, Lust & Rick
AniMunny Uber Stars:
Lust
munny28.conforums.com
NP Awards
Production Information
Edit
Sign Ups for 18 players began June 11, 2017. Reservations began as early as April 28, 2016. People were allowed to sign up as their favorite animated character from any franchise. No character that had already been played in a previous season of this series could be chosen again nor could any 2 people choose from the same franchise. Nobody was allowed to sign up if they had already played 4 times from seasons 21-27. There were no other limitations on who they could pick to play as.
Check Ins for the players began on June 15, 2017. Aphrodite, George, Rick & Wakko were replacements. The game then began on June 18, 2017.
Game Summary
Edit
Series Twist: Everything said & done was being recorded so the game could be scripted for episodes to a YouTube animation and/or webcomic series.
Challenge Twist: Lust became captain for winning Immunity Challenge #4, responsible for absorbing her tribe.
---
@Final 18 players were placed into 3 tribes of 6.
@Final 15 1 tribe absorbed its members into the remaining tribes.
@Final 15 both tribes were sent to a Double Tribal Council.
@Final 10 players merged into a single tribe.
@Final 2 players reached Finale, facing 7 Jurors.

Avatars
Player Information
Game Charts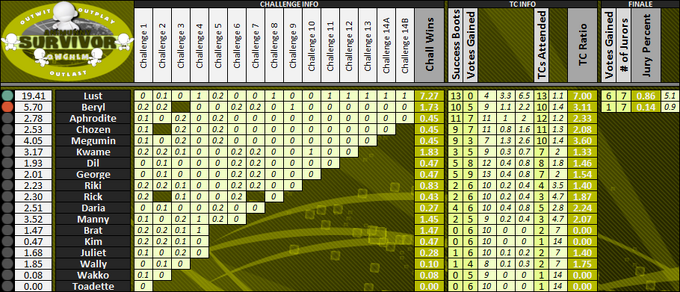 Based on the Survival Average used at True Dork Times.
Trivia
Foot Notes