AniMunny Survivor 21: Palanai
ORG Staffing
Host:
Bo as Chris McLean
Game Statistics
Board Access:
Deleted
Date Began:
March 22, 2016
Date Finished:
May 5, 2016
# of Contestants:
18 Players
Winner(s):
Ducky (4-3)
Various Tribes
PreMerge Tribes:
Gellar
Swanson
Merge Tribe:
Xulama
Returning Seasons
AniMunny All-Stars 5:
Bellatrix, Dexter,
Ducky & Rapunzel
munny21.conforums.com
NP Awards
Production Information
Edit
Sign Ups for 18 players began March 20, 2016. Reservations began as early as February 4, 2016. People were allowed to sign up as their favorite animated character from any franchise. No character that had already been played in a previous season of this series could be chosen again nor could any 2 people choose from the same franchise. There were no other limitations on who they could pick to play as.
Check Ins for the players began on March 20, 2016. Doctor & Joy were replacements. The game then began on March 22, 2016.
Game Summary
Edit
Series Twist: Everything said & done was being recorded so the game could be scripted for episodes to a YouTube animation and/or webcomic series.
Challenge Twist: Rapunzel and Rosalina became captains for winning Immunity Challenge #4, responsible for choosing which members swap tribes.
---
@Final 18 players were placed into 2 tribes of 9.
@Final 15 players were sent to a Double TC.
@Final 13 3 players from each tribe were swapped.
@Final 10 players merged into a single tribe.
@Final 2 players reached Finale, facing 7 Jurors.

Avatars
Player Information
Game Charts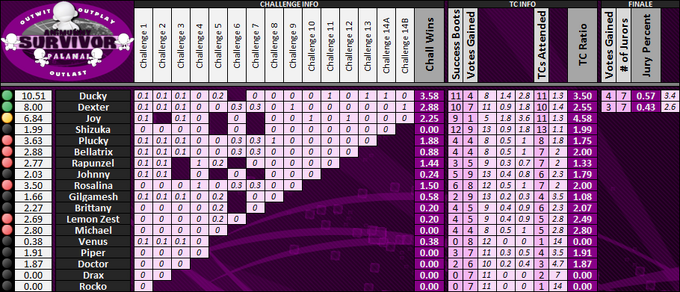 Based on the Survival Average used at True Dork Times.
Trivia
This ORG introduced 0 new Alumni.
The Gellar and Swanson tribes were named after Sarah Michelle Gellar and Kristy Swanson, the portrayers of Buffy.
The Xulama tribe was named by P.jasenec. It is apparently just gibberish he found amusing.

Interestingly enough, the word "xulama" is a Kirdish word which means "servants".

Conforums, the message board service which hosted this game, shut down on April 15th 2018.
Foot Notes
↑

Tie vote between Dexter & Shizuka; lost 2-0 in the revote.