UNDER CONSTRUCTION
This page is in the process of being completed and is not ready for your enjoyment.
AniMunny All-Stars 4
ORG Staffing
Host:
Bo as Chris McLean
Game Statistics
Board Access:
Deleted
Date Began:
June 5, 2016
Date Finished:
August 3, 2016
# of Contestants:
20 Players
Winner(s):
Leone (8-1-0)
Various Tribes
PreMerge Tribes:
Laochra
Onenak
Merge Tribe:
Polaris
Returning Seasons
munnyas4.conforums.com
NP Awards
Production Information
Edit
Interviews for potential All-Stars began on March 9, 2016. A total of 20 contestants from previous seasons were interviewed; 2 males & 2 females from seasons 16-20.
Check Ins for the players began on June 1, 2016. There were no replacements. The game then began on June 5, 2016.
Game Summary
Edit
Series Twist: Everything said & done was being recorded so the game could be scripted for episodes to a YouTube animation and/or webcomic series.
Series Twist: There was an Exile Island in play. The winning tribe/player would get to send one player of their choosing to Exile Island. While exiled, they had the chance to look for a Hidden Immunity Idol. Exile would last as long as the current Tribal Council. This continued up to and including the F6.
---
@Final 20 players were placed into 2 tribes of 10.
@Final 17 players were sent to a Double TC.
@Final 12 players merged into a single tribe.
@Final 3 players reached Finale, facing 9 Jurors.

Avatars
Player Information
Game Charts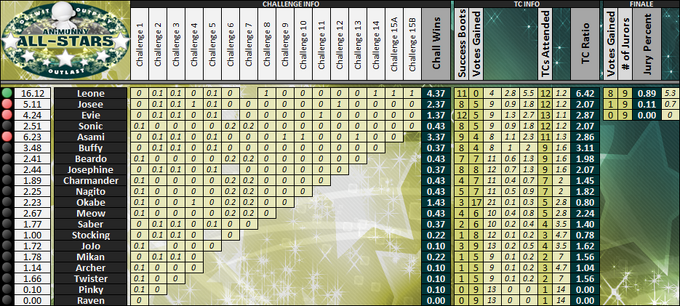 Based on the Survival Average used at True Dork Times.
Trivia
This ORG introduced 0 new Alumni.
The Laochra tribe was named after the Irish word for "warrior".
The Onenak tribe was named after the Basque word for "best".
The Polaris tribe was named by Erinmorricci after the star.
Zangief (Munny 16) would have been interviewed, but could not be reached.
Conforums, the message board service which hosted this game, shut down on April 15th 2018.
Foot Notes
↑

Tie vote between Evie & Sonic; lost 2-0 in the revote.